123.IE ARE PROUD TO BE THE OFFICIAL SPONSORS OF ATHLETICS IRELAND
123.ie are excited to unveil our new brand campaign with Athletics Ireland as part of our recent announcement as their national partner in a three year deal. The support from 123.ie will further help develop the sport from grassroots right up to those medal-winning champions.
Irish Athletes always try for better, and they always bring us moments to remember.
Be inspired by the rising stars of Irish athletes!
123.ie Brand Ambassadors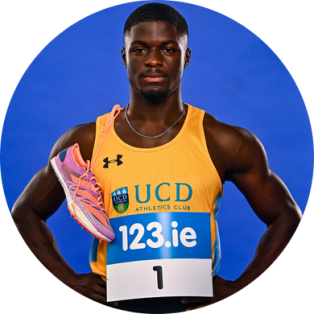 Israel Olatunde, Irish 100m Record Holder
10.17… Seconds! This is the record-breaking time that gave Dundalk's Israel Olatunde the title of Ireland's fastest man, demonstrating what it takes to be the best and to remember the important things in life.
Kate O'Connor, Heptathlete
Newry-native Kate is no stranger to the world stage. 2022 was her most successful year-to-date winning Sliver at the Commonwealth Games, giving better a try is what Kate does best – from hurdles to shot putt, her talent is endless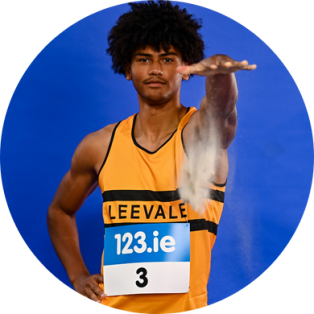 Reece Ademola, Long Jumper
Meet Reece Ademola, the 6'9" long jumper with a dream of going to the Olympics. The Cork teenager is already the third best Irish long jumper in history aged just 19!
Runuary is Back
123.ie are delighted to support Runuary, an Athletics Ireland initiative which is returning in 2023. Be the best you can be this January with help from online coaches and athletes across Ireland. Kick-start your New Year with running; whether its your first 5k or your fastest 5K and whether you are new to running or a professional, Runuary is for everyone – your best is all its takes!
Click here to join Runuary and start your 2023 with a bang (from a starter pistol)!
123.ie & Athletics Sponsorship Details
The new partnership will see 123.ie become the national partner of Irish Athletics until the 31st of December 2025 and will include: 
• Title sponsorship of 40 Athletics Ireland National Championships: Juvenile, U20, U23, Senior, Masters, Schools.
• Title Sponsorship of National Athletics Awards 
• Title Sponsor of Athletics Summer Camps 
• Title Sponsor of Athletics Ireland led Family mile events, and more 'to-be-announced' participation initiatives.
There's never been a better time to get involved in this wonderful sport! To join a club or to find out more about Athletics Ireland, click here: https://www.athleticsireland.ie/